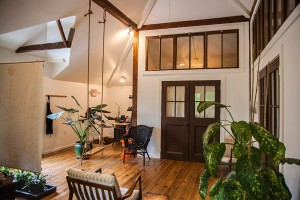 COVID-19 update: the clinic has reopened as of June 4th, but with new guidelines for treatment in response to the evolving situation regarding COVID-19. Online scheduling has also returned via Jane – just hit the scheduling button or call/email with any questions or if you need help making an appointment.
Please also note slight increases in the fee schedule to accommodate greater spacing between patients and higher costs related to cleaning and PPE. Find more details by clicking on "Make an Appointment".
Welcome to Elliott Acupuncture & Chinese Herbal Medicine, a full time Chinese medicine clinic located in Hudson, NY. Situated across the street from Columbia Memorial Hospital and above Columbia Street Dental Group on the second floor of a renovated carriage house (the space is not handicapped accessible) with off street parking, the clinic offers acupuncture and Chinese herbal medicine as well as other therapies such as moxibustion, cupping and gua sha in the treatment of a variety of ailments and conditions. Whether for treatment of the common cold, back pain or something more internal, Chinese medicine provides a unique approach to the treatment of a wide range of health issues. Read more about the clinic and conditions treated in About Clinic.